PSi 2015 TOHOKU+AOMORI FRINGE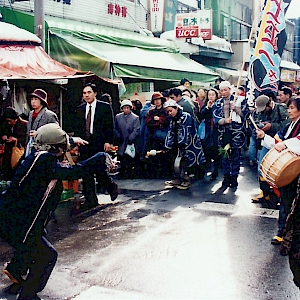 The first Performance Studies international conference in Japan, PSi 2015 TOHOKU takes place in Aomori, from Friday August 28 to 1 September, 2015. PSi 2015 TOHOKU welcomes researchers, critics, dancers and artists from 23 countries all over the world.
Taking this opportunity, Keio University Art Center and Aomori Dance Experience Association together hold yet another performance festival "PSi 2015 TOHOKU + AOMORI FRINGE".
A Variety of events including performances and workshops are organised in Aomori city center and the Aomori Museum of Art.
Enjoy Butoh performances by foreign dancers, street performances and happenings!
PSi 2015 TOHOKU opens a part of its programs to the local people. The keynote speech will focus on the folkloric performances and the important TOHOKU-born artists such as Terayama Shuji and Hijikata Tatsumi.
Date
2015年8月28日(金)〜9月1日(火)
Venue
Aomori Museum of Art, Aomori city streets, Black box
Audience
Enquiries and bookings
Keio University Art Center
pj.hotub-oiloftrop.12isp@mmoc
Date
2015年8月28日(金)〜9月1日(火)
Venue
Aomori Museum of Art, Aomori city streets, Black box
Audience
Enquiries and bookings
Keio University Art Center
pj.hotub-oiloftrop.12isp@mmoc
Organiser(s)
Organisers: Keio University Art Center, Aomori Dance Experience Association, PSi Aomori Fringe