Introduction to Art Archive XXI Fumihiko Maki and Keio University I: Resonating Architecture 
Due to the impact of COVID-19 (coronavirus disease), an advance reservation system will be in place for this exhibition.
Please see the below URL for details on how to make a reservation.
 Fumihiko Maki (1928- ), who has studied at Keio, Tokyo and Harvard University, is a pioneering modernist architect who has consistently been at the forefront of architectural design worldwide. His architectural ethos is based in a profound understanding not only of architecture in and of itself, but also the environments which surround architectural structures. His unwavering vision also takes in the "ethics" of relationships between cities and architecture and its legitimacy in both historical and contemporary contexts.
 At the exhibition, Maki's architecture will be taken up as a situating focus for his relationship with Keio University, centering on the Mita and Hiyoshi Campuses. It will explore how Maki envisioned a new architecture tailored to its era while remaining attentive to the historical and environmental contexts of Mita Campus with its storied past and traditions, and those of Hiyoshi Campus which has traced an entirely different history.
Photo: Hiyoshi Library
Photo by: Ryota Atarashi
Date
Exhibition: Monday,  February 1– Friday,  March 26, 2021 / 11:00–18:00
(Closed on Saturday, Sunday, Holidays)
Venue
Keio University Art Space
Audience
Everyone welcome
Cost
Free participation
Enquiries and bookings
Keio University Art Center
+81-3-5427-1621
pj.ca.oiek.tsda@ijnet-ca
Date
Exhibition: Monday,  February 1– Friday,  March 26, 2021 / 11:00–18:00
(Closed on Saturday, Sunday, Holidays)
Venue
Keio University Art Space
2-15-45, Mita, Minato-ku, Tokyo, 108-8345
Tel. 03-5427-1621 Fax. 03-5427-1620
JR: Tamachi station on Yamanote - and KeihinTohoku Line
Subway: Mita station on Mita Line, Akabanebashi station on Oedo Line
Audience
Everyone welcome
Cost
Free participation
Booking
事前予約制
詳細はこちら
1/12(火)予約開始
Enquiries and bookings
Keio University Art Center
+81-3-5427-1621
pj.ca.oiek.tsda@ijnet-ca
Organiser(s)
Organised by: Keio University Art Center
Support by: Fumihiko Maki, 
---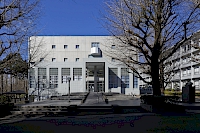 日吉図書館
[設計]槇文彦[竣工]1985年[構造]鉄骨鉄筋コンクリート造、地上5階地下1階建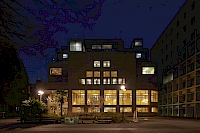 図書館新館(三田)
[設計]槇文彦[竣工]1981年[構造]鉄骨鉄筋コンクリート造、地上7階地下5階建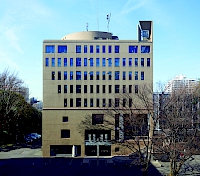 大学院校舎(三田)
[設計]槇文彦[竣工]1985年[構造]鉄骨鉄筋コンクリート造、地上9階地下2階建
いずれもPhoto by: Ryota Atarashi
展覧会へお越しの皆さまへ
新型コロナウイルスの影響に伴い、通常とは異なる対応をとっております。
詳細はこちらをご覧ください。