Contemporary eyes Ⅴ: Blinky Palermo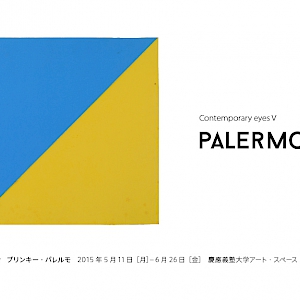 Works of contemporary art show how artists live and how they grasp the world.

"They [his works] have something of a breath about them, a breath that vanishes. He was there, the colors and forms appeared, then he went away again."
-Joseph Beuys on Palermo in Lazlo Glozer, "On Blinky Palermo: A Conversation with Joseph Beuys"

Blinky Palermo passed away at the age of 33 in 1977; however, his works continue to speak to us today. The Keio University Art Center hopes to offer a place to quietly contemplate the works of Palermo and give students the opportunity to think about the world they live in.
Previously exhibited in the "Contemporary Eyes" series were Hamish Fulton (2011), Stanley Brouwn and Daniel Buren (2012), Bruce McLean (2013), and Imi Knoebel (2014). The series will conclude with Blinky Palermo.
Date
2 March - 17 April 2015, 11:00~ 17:00
Venue
Keio University Art Space
Audience
どなたでもご参加いただけます
Cost
Admission: Free
Enquiries and bookings
Keio University Art Center
pj.ca.oiek.tsda@ijnet-ca
Date
Monday 11 May 2015 - Friday 26 June 2015 (closed on Sat., Sun., and national holidays)
11:00 to 17:00 * We opens the galery on appointment after 17:00. Please email us at booking [at mark] contact.art-c.keio.ac.jp.
Venue
Keio University Art Space
Keio University (Mita) South Annex Ground floor
2-15-45, Mita, Minato-ku, Tokyo, Japan108-8345
Tel. +81-(0)3-5427-1621 Fax. +81-(0)3-5427-1620
JR Yamanote, Keihintohoku line Tamachi station, Subway Mita station
Audience
どなたでもご参加いただけます
Cost
Admission: Free
Enquiries and bookings
Keio University Art Center
pj.ca.oiek.tsda@ijnet-ca
Organiser(s)
Organiser: Keio University Art Center
In cooperation with: the Hirose Collection, Kan Ran Sha
---
展示の時間外観覧について
閉館後、17:00から18:00までの間、スタッフ在席時に限り展示をご観覧いただけます。ご希望の方は【ご観覧希望日の午前中まで】に、下記メールフォームよりご予約ください。
スタッフ在席状況などを確認の上、ご観覧いただけるかどうかをメールでご返信いたします(メールアドレスは、すぐにご確認いただけるアドレスをご記入ください)。
ご予約なしでの時間外観覧は、申し訳ありませんがお断りしております。あらかじめご了承ください。