Ohno Yoshito Butoh Lecture & Performance BUTOH: A WAY OF LIFE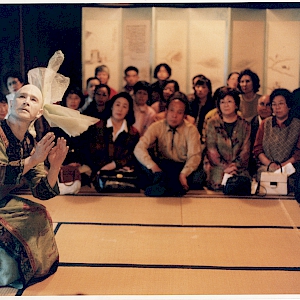 In 1959, Yoshito Ohno was chosen by Tatsumi Hijikata as a partner for
his dance piece Kinjiki (Forbidden Colours) -- regarded as the
first-ever Butoh performance. After this first duo, Yoshito Ohno
appeared in all Hijikata's main pieces in the early 1960s. In this
lecture-performance, Yoshito Ohno will talk about Butoh's genesis and
history, demonstrating movements from his experience with Tatsumi
Hijikata and his father Kazuo Ohno.
Date
22 April 2016
Venue
Keio University (Hiyoshi), RAIOSHA
Audience
Open to Anyone
Cost
Admission Free
Enquiries and bookings
Keio University Art Center
​03-5427-1621
pj.ca.oiek.tsda@hotub-ca
Date
22 April 2016
Venue
Keio University (Hiyoshi), RAIOSHA
4-1-1 Hiyoshi, Kohoku-ku, Yokohama, Kanagawa 223-8521
1 min. walk from Hiyoshi Station (Tokyu Toyoko Line, Meguro Line, or Yokohama Municipal Subway Green Line)
http://www.keio.ac.jp/en/maps/hiyoshi.html
Audience
Open to Anyone
Cost
Admission Free
Lecturer/Performer
大野慶人
大野慶人(おおの・よしと)
1938年大野一雄の次男として東京に生まれ、横浜で育つ。学生時代に、父一雄のもとでダンスを学ぶ一方、サッカーに打ち込む。
1959年には土方巽の「禁色」に相手役として出演。その後、1960年代の暗黒舞踏派公演に参加。1969年初リサイタル後、舞台活動を中断。1977年大野一雄の「ラ・アルヘンチーナ頌」より大野一雄の公演を支え、1985年「死海」の共演でカムバックした。86年以降の大野一雄の全作品を演出。
近作に、ヴッパタール舞踊団ダンサーとの共演「たしかな朝」(2010)、「時の風」(2012)、レクチャー & パフォーマンス「それはこのようなことだった」(2016)、大野慶人ダンスフィルム「花と鳥 舞踏という生き方」(2016)など。
Enquiries and bookings
Keio University Art Center
​03-5427-1621
pj.ca.oiek.tsda@hotub-ca
Organiser(s)
Organised by: Keio University Art Center