地方・地域における文化芸術活動と大学「文化による地域創生:北東北からの報告」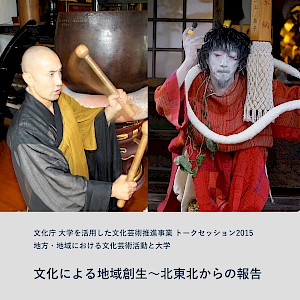 Many peripheral region on the verge of crisis of disappearance, nevertheless there people ecpect the 'regional revitalization'. Especially Aomori and Akita suffer from the population decline, but in these prefectures cultural and artistic actibities are energetic prosperous.
Art Center cooperated with Aomori and Akita in this summer in the field of cultural and artistic actibities and assisted it. So we invite two persons who collaborated with us there and hold a symposium.
In this occasion Syoichi Hukushi and Kenou Miura will report and suggest current situation of peripherals and actual actibities in past and future. We discuss how Univesity can support the cultural and artistic actibities of peripherals.
Date
15 October 2015, 19:00 -
Venue
Keio University (Mita Campus), Graduate School Building, 1st Floor, 313 Lecture Room
Audience
Free
Cost
Free
Enquiries and bookings
Keio University Art Center
2-15-45, Mita, Minato-ku, Tokyo, 108-8345, Japan
Tel. +81-(0)3-5427-1621 Fax. +81-(0)3-5427-1620
pj.ca.oiek.c-tra.tcatnoc@serutcel-ma
---
Date
15 October 2015, 19:00 -
Venue
Keio University (Mita Campus), Graduate School Building, 1st Floor, 313 Lecture Room
Audience
Free
Cost
Free
Booking
No booking required
Lecturer/Performer
Kenou Miura (Chief Priest of Dairyu-ji Temple)/ Syoichi Hukushi (Butoh dancer)
-
Enquiries and bookings
Keio University Art Center
2-15-45, Mita, Minato-ku, Tokyo, 108-8345, Japan
Tel. +81-(0)3-5427-1621 Fax. +81-(0)3-5427-1620
pj.ca.oiek.c-tra.tcatnoc@serutcel-ma
Organiser(s)
Orgenizer: Keio University Art Center
Assisted by: Daigakuwokatsuyoshitabunkageijutsusuishinjigyo