Mitsuyo Uesugi Butoh Performance "Life"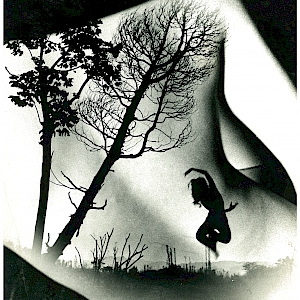 "As we live, what on earth should we eat? I tell you we extinguish lives, consume them. But how terrible this is. The idea of eating a life..." -Kazuo Ohno, Workshop Words
The time, May 24th, in the thick of perplexity. The place, Hiyoshi Campus's very own Raiosha. We have received a blessed place again, rebirth from the glass womb. We gather together to take Mr. O's words to heart, reveling in thanksgiving for this miracle.
To step. To strike. To dance. To perform.
And to eat!
-Mitsuyo Uesugi, 2023
Photo by U.Atsushi
---
The Welcome Event for New Students began in 1994 with a Butoh performance by Ohno Kazuo at Hiyoshi Campus. The theme of that day was "heart, body, and mind" which has become an important concept at Hiyoshi Campus, with performances from representative Japanese butoh artists receiving a wonderful response every year. You can watch this event on the following YouTube;
Performance / Interview
---
★Flyer:Download
Date
Wednesday 24 May 2023, 18:00 start (Doors open at 17:00)
Venue
Keio University Hiyoshi Campus, Raiosha Event Terrace
Audience
Open to anyone
Cost
Admission Free
Enquiries and bookings
Keio University Art Center
2-15-45 Mita, Minato-ku, Tokyo, 108-8345
Tel 03-5427-1621
pj.ca.oiek.c-tra@otomihsi
Date
Wednesday 24 May 2023, 18:00 start (Doors open at 17:00)
Venue
Keio University Hiyoshi Campus, Raiosha/YouTube
4-1-1 Hiyoshi, Kohoku-ku,Yohohama
Access from Hiyoshi Station(Tokyu Toyoko Line / Tokyu Meguro Line / Tokyu Shin-yokohama Line / Yokohama Municipal Subway Green Line)
Audience
Open to anyone
Cost
Admission Free
Booking
No booking required
Lecturer/Performer
[Performer]
Butoh: Mitsuyo Uesugi
Music: Masaru Soga, Masami Tada

[Sound/Lighting]
Masaru Soga
Mitsuyo Uesugi
Born in Fukuoka prefecture in 1950. Uesugi began studying ballet from a young age. After joining the Tani Momoko Ballet Company in 1968, she began studying with Butoh dancer Kazuo Ohno in 1971. She appeared in the film, Mr. O's Book of the Dead, and made her solo Butoh debut in 1975 performing Guren-yakyoku. Since then, she has continued to give deeply intimate performances as her main form of artistic activity. From 1987-1990, Uesugi lived in France and collaborated with dancers at Studio DM (owned by Catherine Diverrès and Bernardo Montet), appearing in three productions at national theaters in Paris. After returning to Japan, she has released a series of solo works including She (Kanojo), Madame Mélancolie, Mademoiselle Mélancolie, and Baby Mélancolie. She has also been invited to festivals throughout Europe and the United States including the Kazuo Ohno Festival in Japan. In 2009, she received the Dance Critics Society of Japan Award for her performance Baby Mélancolie―Dream of Six Nights.
Masaru Soga
Masaru Soga learned the basics of music from his father and grandfather until he was around 15 years old. In the early 1970s, he studied with Terry Riley at the Tokyo American Center and then went on to learn about composing contemporary music and its potentialities from John Cage in New York. He also studied dialectical materialism, scientific socialism, and comparative essays about Marx and Engels under the tutelage of Minoru Kitamura (Waseda University Department of Philosophy). In 1973, he founded GAP, an improvisation group, alongside Kiyohiko Sano and Masami Tada. Since the late 1970s, Soga has focused on theater performance, working in sound and lighting at New York's La MaMa Experimental Theatre Club, London's ICA, and other artistic spaces.
Masami Tada
Masami Tada began teaching himself how to play the piano around the age of 13. When he composed music, he unconsciously mimicked an artistic school of thought that came about at time of his birth in Poland, only learning of the similarities later. In 1974 he performed as a part of the improvisational group, GAP. Then, in 1975 he began attending workshops by Takehisa Kosugi. In 1978, he photographed a single tree from the same position every day for an entire year. In the early 1980s, he spent his life working on piano production and touring festivals in Shizuoka prefecture. In 1986 he began working on collaborations and Sound Encounter improvisations at Soh Gallery. In 1999, he stayed in the Netherlands for one year as an artistic envoy sent by the Japanese Agency for Cultural Affairs. After this, he then attended ancient Guanyin festivals in Nepal and participated in "Art Full Nepal" which was held in Kathmandu and Lalitpur in 2006.
Enquiries and bookings
Keio University Art Center
2-15-45 Mita, Minato-ku, Tokyo, 108-8345
Tel 03-5427-1621
pj.ca.oiek.c-tra@otomihsi
Organiser(s)
Hosts: Hiyoshi Art and Performance Project (HAPP), Keio University Art Center (KUAC)
Cooperation: Keio Senior High School, Portfolio Butoh
Coordinator: Hayato Kosuge