Hijikata Tatsumi / Archive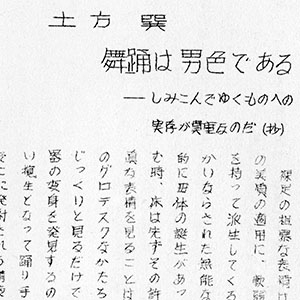 Over the past eight years we have held the event "Talking about Tatsumi Hijikata" to mark the anniversary of his death on January 21. This year we will hold "Tatsumi Hijikata/Archive" in place of the regular event format, as a newly instituted public forum for debate.
 2018 saw the 20th anniversary of the establishment of the Keio University Art Center (KUAC) archive. To commemorate this milestone, we held a symposium themed on issues surrounding the archive. This is not to say that the issues with which the archive has grappled are in any way diminished simply by holding a symposium; merely theorizing about the archive does not in itself contribute to the archive's materialization.
 In recent years, interrogations of Tatusmi Hijikata's work and legacy have continued in line with new discoveries of relevant materials. The Tatsumi Hijikata Archive is positioned as a fixed star in our archiving apparatus. However, there have also appeared various "planets" in its orbit leading to the current situation whereby these "planets" have become inseparable appendages of the fixed star of the archive and have thus contributed to its expansion.
 Gaining access to previously unknown or uncollected materials is essential to further deepen studies of dance, and the mission of any archive is inextricably bound in with the collation and making public of such materials. With this said, the nature of such a mission is under constant interrogation, and this process will inevitably be informed by disparate phenomenon, newly evident relationships, and the contingent activities which such developments demand.
 This public debate will introduce the archive's various "constellations." It will explore and attempt to trace the history of these materials, freshly considering the future and fate of the archive with the aim of both contextualizing the materials themselves and attempting to answer questions which remain around Tatsumi Hijikata.
Flyer (PDF 3.6 MB)
Date
Monday 21 January 2019, 18:30-21:00
Venue
Keio University (Mita), East Research Building 5F Meeting Room
Audience
Open to everyone / Come and go anytime
Cost
Free
Enquiries and bookings
Keio University Art Center (Morishita)
Tel. 03-5427-1621
pj.ca.oiek.c-tra@sirom
Date
Monday 21 January 2019, 18:30-21:00
Venue
Keio University (Mita), East Research Building 5F Meeting Room
Audience
Open to everyone / Come and go anytime
Cost
Free
Booking
No reservations required
Lecturer/Performer
Guest Speaker:Nakao IKEMIYA, Y.Kibe, Gozo YOSHIMASU
Enquiries and bookings
Keio University Art Center (Morishita)
Tel. 03-5427-1621
pj.ca.oiek.c-tra@sirom
Organiser(s)
Organiser: Keio University Art Center, Portflio Butoh
Planned by: Hijikata Tatsumi Archive @ Keio University Art Center
Cooperated by: Hijikata Tatsumi Asbestos Studio, Seminar on 21th Century Butoh
---
 土方巽アーカイヴをサーキュレートする資料体が次々と現れています。
高井富子コレクション
池宮信夫コレクション
石井満隆コレクション
辻村和子コレクション
副島輝人コレクション
吉本隆明コレクション(音声・映像記録)
 それぞれのコレクションの資料がアート・センターの収蔵庫に格納されています。まだ全貌が見えない長尾一雄コレクションも想定して、本討議では、それぞれのコレクションの特徴や意義から、さらには今後コレクションをどう扱い、どう装置化すべきか、具体的な展望と処理についてまで考えることになります。