Schubert: Lied and Chamber Music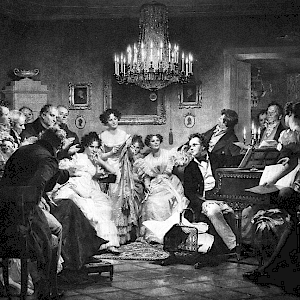 The Japanese characters for 'smoke' (煙) and 'ash'(灰), both contain the character of 'fire'(火). It is as though they etymologically recall their material origin in fire, and visually indicate themselves as the next stage of transformation in the 'life of fire.' Hijikata would often tell his disciples to become 'disappearing things, appearing things.' 'Disappearance,' for him, meant more than simple self-erasure; it contained the element of something else. This structure of containment, with one thing harboring the possibility of another, might be termed a kind of 'compound.' Just like the 'charcoal' (火種) hidden in the embers of a dying fire. This is the way I learned to live and dance from Hijikata Tatsumi and Ohno Kazuo; it is the way I have danced my entire life. In the brief encounter of one night, a lasting message might be fleetingly passed from an old generation to a new, like the 'life' of a firework in the early evening. With this dance, I pray and pass a flower to those who have already gone.
Spring 2014, Nakajima Natsu
Date
Wednesday 16 April 2014, 18:15-
Venue
Keio University Hiyoshi Campus Raio-sha
Audience
Open to everyone
Cost
Free
Enquiries and bookings
Keio University Art Center
tel. 03‒5427‒1621 fax. 03‒5427‒1620
pj.ca.oiek.tsda@artsehcro-ca
Date
Wednesday 16 April 2014, 18:15 (doors open: 17:30)
Venue
Keio University Hiyoshi Campus Raio-sha
4-1-1, Kohoku-ku, Yokohama; Tokyu-Toyoko Line Hiyoshi station
Audience
Open to everyone
Cost
Free
Booking
No booking required
Lecturer/Performer
Nakajima Natsu and Muteki-sha

Staff
Sound and Lighting Design Soga Masaru
Stage Management Tokame Shunosuke
Choreography and Direction Nakajima Natsu

With thanks to all who have made this possible, in particular the participants of 'Class for the Mind and Body.'
NAKAJIMA NATSU has been one of the most prominent figures in butoh dance since its foundation in Tokyo in the 1960s. Training under both Hijikata Tatsumi and Kazuo Ohno, Nakajima went on to establish her own dance company, Muteki-sha, in 1969, with whom she has been performing and choreographing internationally since the early 1980s. Her highly acclaimed performance of 'Niwa' at LIFT '83 (London) marked the beginning of this international touring career, and led to performances worldwide. She has also won prizes for her choreographic work in Mexico and Canada, including first prize at the Canada Dance Festival for her choreography of Ghost Stories in 1990. In addition to her performance and choreographic work, Nakajima has over thirty years of experience as a teacher, and has been one of the forerunners of dance for the disabled in Japan.
Timetable
演奏曲目 ● F.シューベルトの歌曲と室内楽
歌曲=《死と乙女》《しぼめる花》《鱒》《岩上の羊飼い》
弦楽四重奏曲=《死と乙女》より
フルート変奏曲=《しぼめる花》
ピアノ五重奏曲=《鱒》より
(曲目は変更されることもあります)
Enquiries and bookings
Keio University Art Center
tel. 03‒5427‒1621 fax. 03‒5427‒1620
pj.ca.oiek.tsda@artsehcro-ca
Organiser(s)
主催=慶應義塾大学アート・センター、慶應義塾大学遠山記念音楽研究基金
---
"歌曲王シューベルト"とはどのような意味をもつのでしょうか。短い生涯に600を超す歌曲を生み出したというだけの理由ではありません。ハイドン、モーツァルトそしてベートーヴェンにも優れた歌曲はあります。しかし、シューベルトは彼らとは違った創作姿勢から新しい芸術歌曲の世界を打ち立てたのです。生涯にわたって自分のピアノも持たずボヘミアン的な日常を送り、シューベルティアーデと呼ばれる仲間たちの援助を受けながら作曲に打ち込んでいた、というイメージがありますが、それは大きな誤りと見なければなりません。ベートーヴェンと全く同じ時代を生きたシューベルトは、実は、当時のウィーンにおける楽譜出版収入においてどの作曲家よりも多かったということです。その収入源は単価の安い歌曲にありました。見方を替えれば、シューベルトの歌曲は広く普及していたということです。
そして、シューベルトは広く親しまれていた歌曲を主題にした変奏曲楽章を含む室内楽作品を多く残しています。今回のレクチャー・コンサートではそうした作品を原曲の歌曲とともに様々な形態の変奏楽章をもつ室内楽でお楽しみいただきたいと思います。