The Art of Hijikata Tatsumi: From Dance Experience to Dance Method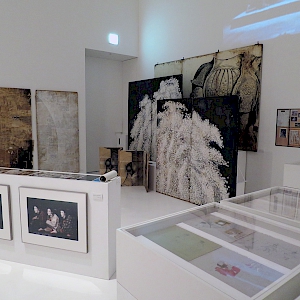 This exhibition shows a number of invaluable artworks and materials from the Hijikata Tatsumi archive that narrate the history of Hijikata's Butoh. The Hijikata Tatsumi archive, founded in 1998 at Keio University Art Center, holds the archival materials of Butoh founder, Hijikata Tatsumi (1928-1986), and makes these available to researchers and artists.
Hijikata Tatsumi is one of the central figures of post-war Japanese avant-garde art, and he worked in close collaboration with a number of other experimental artists, especially in the 1960s and 70s. These collaborations are documented in the materials of the Hijikata archive, and they reveal creative practices that go beyond divisions between artistic disciplines – such as the visual arts, performance or literature – opening up a number of pathways for researchers to follow.
Date
6 June – 13 September 2015
Venue
Aomori Museum of Art
Audience
Open to anyone
Cost
510JPY (AMOA entrance fee)
Enquiries and bookings
Keio University Art Center
pj.ca.oiek.tsda@ijnet-ca
---
Date
6 June – 13 September 2015
Venue
Aomori Museum of Art
Audience
Open to anyone
Cost
510JPY (AMOA entrance fee)
Enquiries and bookings
Keio University Art Center
pj.ca.oiek.tsda@ijnet-ca
Organiser(s)
Organised by Keio University Art Center, Aomori Museum of Art
Supported by the Top Global University Project at Keio University