The Man Who, An Ephemeral Archive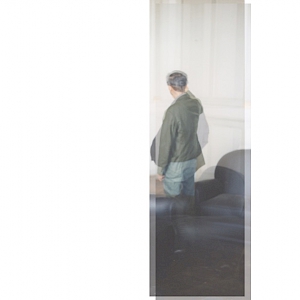 When stating that somebody is an interesting person, or a boring person, one is actually reducing various behaviors of that person into a flat image and entrenching her or him in this thin plate. However, of course, that person's behaviors are not always interesting or boring, but just different each time. Above all, what character one applies to the person depends purely on one's perspective and standpoint.
This solo exhibition by Yuki Okumura revolves around his latest film entitled The Man Who (2019), which puts together nine people's recollections about somebody they call "him." It is Okumura's attempt to untangle the rigidly fixed bundle to which diverse aspects of "him" have been reduced, multilayering the image through a series of procedures reminiscent of overlaying different photographic plates one after another. Here, "he" indeed emerges as a singular man every time the pronoun is uttered, but also transforms into plural men as the nine interviewees deliver their stories. This duality tears apart the man/men toward two poles, namely their most general states and their most specific states, between which we encounter countless versions of "the man who" — each is simultaneously "him" who looks very much like anybody and a double of "him" who looks absolutely like nobody.
Another component of the show is the artist's act of placement of a collection of three reference items related to the film into the archive of Keio University Art Center, lasting just for the exhibition's duration.* Along with The Man Who, which is at once an artistic account in the form of film and an oral historical referential material, this intervention is to provoke fresh discussions as to what a material really is for the archive that includes it and what kind of possibilities such an archival material can open up. Indeed, as shown by the nine individuals narrating their personal memories with "him" in the film, the body of each of us is an archive on its own, established in this physical world and accessible only for a fleeting moment.

* Open to any researcher but a preliminary online reservation is necessary: please click here

Image: adapted from a photograph by Jean-Hubert Martin, 1993


Yuki Okumura
A man who was born in Aomori, 1978, and now lives in Brussels and Maastricht. Artist. In many of his projects, Okumura inserts his own life and fantasy in a specific area of recent art history, reactivating it in the present timeframe as a site of uncertainty that develops through ever-changing interpersonal relations, driven by his belief in the essential parallelity of worlds and the ultimate interconnectedness between individuals. Recent "solo" exhibitions include "Hisachika Takahashi by Yuki Okumura (2016 | Maison Hermè Le Forum | Tokyo | Curated by Reiko Setsuda), "Na(me/am)" (2018 | Convent | Ghent | Organized by Jeroen Staes and Wouter De Vleeschouwer) and "29,771 days – 2,094,943 steps" (LA MAISON DE RENDEZ-VOUS | Brussels | Presented by MISAKO & ROSEN).
Date
Special viewing: Saturday, November 9 / 13:00–
Exhibition: Monday,  November 11– Friday,  November 22, 2019 / 11:00–18:00
(Closed on Saturday, Sunday)
Venue
Keio University Art Space
Keio University Art Certer Archive (Reservation is required)
Audience
Everyone welcome
Cost
Free participation
Enquiries and bookings
Keio University Art Center
+81-3-5427-1621
pj.ca.oiek.tsda@ijnet-ca
Date
Special viewing: Saturday, November 9 / 13:00–
Exhibition: Monday,  November 11– Friday,  November 22, 2019 / 11:00–18:00
(Closed on Saturday, Sunday)
Venue
Keio University Art Space
Keio University Art Certer Archive (Reservation is required)
[Located on the ground floor of Keio University South Annex]
2-15-45, Mita, Minato-ku, Tokyo, 108-8345
Tel. 03-5427-1621 Fax. 03-5427-1620
JR: Tamachi station on Yamanote - and KeihinTohoku Line
Subway: Mita station on Mita Line, Akabanebashi station on Oedo Line
Audience
Everyone welcome
Cost
Free participation
Enquiries and bookings
Keio University Art Center
+81-3-5427-1621
pj.ca.oiek.tsda@ijnet-ca
Organiser(s)
Organiser: Keio University Art Center
Cooperation: MISAKO & ROSEN
---

Please find the reviews of the exhibition in the link below:
Takuya Nakao (Art Critic) on "Bijutsutechō" web-magazine:
https://bijutsutecho.com/magazine/review/20986

Contemporary Art Diary
http://www.contemporaryartdaily.com/2019/12/yuki-okumura-at-keio-university-art-space-keio-university-art-center-archive/