Introduction to Archives XIII: Tokyo Biennale '70, Revisited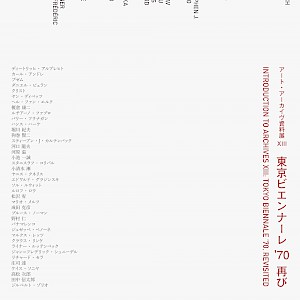 In 'The 10th International Art Exhibition of Japan' (Tokyo Biennale), Yusuke Nakahara as general commissioner set a charactaristic and critical theme, 'Between Man and Matter' and convoked the 40 artists in the world, those who have embodied the newest trends. Those artists came to Japan and made works at Tokyo Metropolitan Art Gallery, therefore this exhibition is regarded as one of the international exhibitions, that were held worldwide 1969-1970 and showed avand-garde.
We have also supplemental records about the exhibition and relatively abundant informations about the individual works, on the other hand it seems that the study about the details of the exhibition itself still absent. Thus as the first step of re-investigation we try to reveal where the works were located actually in Tokyo Metropolitan Art Gallery, through researches on the materials.
Date
22 February - 25 March 2016
Venue
Keio University Art Center
Audience
Open to Anyone
Cost
Admission Free
Enquiries and bookings
Keio University Art Center
​03-5427-1621
pj.ca.oiek.tsda@ijnet-ca
Date
22 February - 25 March 2016
Venue
Keio University Art Space
108-8345 Mita 2-15-45, Minato-ku, Tokyo

Nearest Station 
JR: Tamachi station on Yamanote - and KeihinTohoku Line
Subway: Mita station on Mita Line, Akabanebashi station on Oedo Line
Audience
Open to Anyone
Cost
Admission Free
Enquiries and bookings
Keio University Art Center
​03-5427-1621
pj.ca.oiek.tsda@ijnet-ca
Organiser(s)
Organised by: Keio University Art Center
---
展示の時間外観覧について
閉館後、17:00から18:00までの間、スタッフ在席時に限り展示をご観覧いただけます。ご希望の方は【ご観覧希望日の午前中まで】に、下記メールフォームよりご予約ください。
スタッフ在席状況などを確認の上、ご観覧いただけるかどうかをメールでご返信いたします(メールアドレスは、すぐにご確認いただけるアドレスをご記入ください)。
ご予約なしでの時間外観覧は、担当者が在席の場合のみ可能となりますので、インターホンにてお尋ねください。