The Social World of Butoh Dance: Screening an Unseen Performance from the 1970s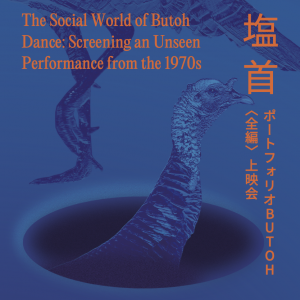 From the Video Information Center (VIC) Collection*, we will be holding a screening of Shiokubi, a performance commemorating the founding of the dance company Hoppo Butoh Ha. Shiokubi was first performed in 1975 in a small neighborhood of Tsuruoka City, Yamagata, called Banden. The documentary captures the events leading up to the first performance, which was partially supervised by Tatsumi Hijikata, and represents a rare chance to delve into the relationships between Butoh dancers at the time. From the audience making their way to the venue, to the final rehearsal, and even the afterparty—viewers of the collection will be treated to a rare opportunity to access materials normally only available at the Art Center.
Butoh dancer Bishop Yamada (the choreographer responsible for Shiokubi) will join Takashi Morishita of Tatsumi Hijikata archive and Professor Hayato Kosuge of Portfolio BUTOH to share his memories of that time.
*VIC (Video Information Center, 1972-present) is a movement that recorded various events to produce experimental television broadcasts, such as the 1978 'Paravision Ten' CATV broadcast.
Date
December 2nd Saturday, 2023 14:00 - 17:30 (Doors open 13:30)
Venue
Keio University Hiyoshi Campus, Raiosha Symposium Space
Audience
Open to anyone
Date
December 2nd Saturday, 2023 14:00 - 17:30 (Doors open 13:30)
Venue
Keio University Hiyoshi Campus, Raiosha Symposium Space
Hiyoshi 4-1-1, Kohoku-ku, Yokohama
Access from Hiyoshi Station(Tokyu Toyoko Line / Tokyu Meguro Line / Tokyu Shin-yokohama Line / Yokohama Municipal Subway Green Line)
Audience
Open to anyone
Cost
Admission Free
Lecturer/Performer
Bishop Yamada, Takashi Morishita(Hijikata Tatsumi Archive), Prof. Hayato Kosuge(Keio Univ.)
Bishop Yamada
Bishop Yamada (real name Ippei Yamada) was born February 17, 1948 in Tokyo. Yamada performed as a dancer in Tatsumi Hijikata's productions from 1968 to 1970. In 1972, he formed the dance troupe Dairakudakan with Akaji Maro and others. In 1973, Yamada performed with the dance troupe Hangi Daitō-kan in Paragon of Sacrificing Great Dance, 15 Days for Dancer HooPie and the Seibu Theater Quiet House. In the same year, he performed a duet with Hijikata, who made a special appearance in dance troupe Dairakudakan Temptenshiki's production of Yobutsu Shintan. In 1974, he opened the Butoh Juku Grand Camerio in Banden, a local neighborhood of Tsuruoka City, Yamagata, as a rehearsal hall for the dance company Hoppo Butoh Ha. In the following year of 1975, he put on Shiokubi in commemoration of the founding of Hoppo Butoh Ha. In 1976 Yamada moved to Otaru in Hokkaido and opened Theatre Uminekoya, which also served as an izakaya. In 1977, he formed an all-women's butoh troupe, "Suzuran Party," based on Hoppo Butoh Ha. In 1984, Yamada appeared in Takazashiki (Hawk Parlor), a performance put on by Hoppo Butoh Ha and choreographed by Tatsumi Hijikata. In 1998, he choreographed and danced in a performance at the Kyiv Opera House. The same year, Yamada remade the Kyiv performance at the Tokyo Metropolitan Theatre in Japan. Then in 2018, he opened socomi (named after the late Motoi Tanaka), his third establishment for Butoh in Kamifukuzawa of Kai City, Yamanashi. He has subsequently performed three works at the White Horizont Art Festival and other events through 2022. The motif of these performances sought to portray the minds and physical representations of the humans who painted the animal murals in the Lascaux Cave.
Timetable
Part 1
14:00 - Screening of the entire collection Shiokubi, the performance commemorating the founding of the dance company Hoppo Butoh Ha.

Part 2
16:30 - Three-way panel discussion about Shiobuki and the era in which it was created
Panel: Bishop Yamada, Takashi Morishita (of the Tatsumi Hijikata Archive), Hayato Kosuge (Professor at the Faculty of Science and Technology, Keio University)
*No English interpretation
Enquiries and bookings
Keio University Art Center
Tel 03-5427-1621
http://www.art-c.keio.ac.jp/
pj.ca.oiek.c-tra@otomihsi
Organiser(s)
Organizer: Portfolio BUTOH at Keio University Art Center (organized by Hayato Kosuge and Kae Ishimoto)
This project is supported by a 2023 Grant-in-Aid for Scientific Research "Research for Establishing Butoh Dance as a Category of Art through Field Investigation" (Project No. 20K00156/Representative: Hayato Kosuge).
In cooperation with: Support Program to Promote Archives of Media Arts 2023 "Digitizing and Cataloging of Performances and Exhibitions Video Recrords from the post-1970s."