Butoh performance"Three Dancers: To the New Era"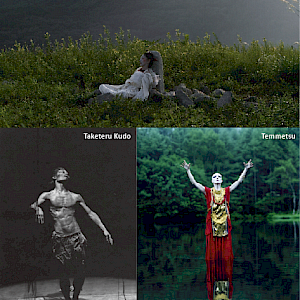 Nearly 30 years have gone by since Hijikata Tatsumi passed away in 1986, and the new generations of the Butoh scene have developed the art in various directions. Those succeeding the first generation Butoh dancers, who played along with Hijikata, are establishing a new era of Butoh.
Appearing on stage for the event are two male dancers working actively worldwide and a female dancer living in Aomori and pursuing her original dance.
Date
Sunday 30 August 2015, 19:00 - 20:00
Venue
Aomori Museum of Art, Theatre
Audience
Open to anyone
Enquiries and bookings
Keio University Art Center
---
Date
Sunday 30 August 2015, 19:00 - 20:00
Venue
Aomori Museum of Art, Theatre
Audience
Open to anyone
Booking
Booking required
Lecturer/Performer
Taketeru Kudo, Temmetsu, Yuko Yuki
工藤丈輝
1967年、東京生まれ。慶應義塾大学文学部仏文科卒業。在学中より舞台活動を始めるが、'89年、舞踏との出逢いが針路を決定づける。渡米し玉野黄市に師事。和栗由紀夫作品に出演ののち、'92年よりソロ活動、'95~'98年には山海塾に参加。その後、元藤燁子主宰のアスベスト館で活動を始める。近年はソロ活動を主軸に世界各地で公演、ワークショップを行っている。'95年、『開眼草』にて舞踊批評家協会賞受賞、'13年にはロシア国家の舞台芸術賞〈ゴールデンマスク〉を主演作『満月』により受賞。近作に『業曝』、『荒漠器』、『光ふる廃園』、『工場』、『降海の夢』、『敗北の傘』('15年10月、於座高円寺予定)など。
http://www.kudo-taketeru.com/
点滅
1993年、土方巽記念アスベスト館にて舞踏を始める。'96年、自らの舞踏グループ赤色彗星館を結成。多数の作品を発表し、その全てに作・演出・出演。またその間、継続作業として歩行者天国等に於ける実験的路上公演も敢行。2005年、赤色彗星館を封印。その後、ソロとして自らの舞踏作品を継続して発表する傍ら、演劇への客演、スチール・映像作品の被写体としても活躍。ヨーロッパ・ロシア・韓国等の芸術フェスティバルへの参加など、国内外を問わず活動している。http://temmetsu.com /
雪雄子
1970年に土方巽に出会う。1972年に大駱駝艦の創設に参加。1975年北方舞踏派を結成し、山形県の出羽三山山麓へ移住し稽古場を構え、土方巽の高度な精神性と身体性を探求し、東北の風土を舞踏に生かすことに努める。その後、北海道の小樽や東京で舞踏活動を続け、1985年には土方巽の振付による作品「鷹ざしき」で女鷹を踊る。1992年のビショップ山田演出の「蝦夷面」では、北国の生命力を表現する舞踏家として高い評価を受ける。翌1993年には北方舞踏派から独立して青森県津軽に移住。ここで原初の命と出会い、縄文の世界を表現する舞踏を発表している。1988年にサンフランシスコで発表したほか、パリ、ウィーン、ワルシャワ、サンクトペテルスブルグなどでソロ作品を発表している。
Enquiries and bookings
Keio University Art Center
Organiser(s)
Keio University Art Center