SHOW-CASE project No. 4 Tatsuo Kawaguchi Gaze Breathing via Branchial Respiration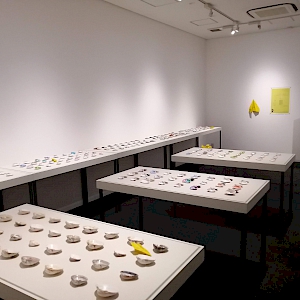 Annual exhibitions themed on modern art are held by the Keio University Art Center (KUAC). For 2020, we have commissioned Tatsuo Kawaguchi to plan the 4th project of our SHOW-CASE series, which will focus on display cases and related printed materials.
The distinctive feature of this project is its turning of the tables in foregrounding the display cases that normally house exhibited materials. However, due perhaps in part to our lack of discerning eyes for the display cases themselves, Kawaguchi's work is a means to our perceiving the very things which we had overlooked despite their being right in front of us. Please take the time to contemplate the unique ideas and provocations from an artist who has consistently confronted the true essence of objects while querying their relationships.
Kawaguchi's website can be found here.
Date
2020年8月17日(月)〜10月30日(金)(事前予約制)
Venue
Keio University Art Space
[Located on the ground floor of Keio University South Annex]
Audience
Open to anyone
Cost
Free
Enquiries and bookings
Keio University Art Center
Tel: 03-5427-1621 Fax: 03-5427-1620
pj.ca.oiek.tsda@ijnet-ca
---
Date
Close: Saturday, Sunday and Holiday
Venue
Keio University Art Space
[Located on the ground floor of Keio University South Annex]
Audience
Open to anyone
Cost
Free
Booking
事前予約制
詳細はこちら
Enquiries and bookings
Keio University Art Center
Tel: 03-5427-1621 Fax: 03-5427-1620
pj.ca.oiek.tsda@ijnet-ca
Organiser(s)
Organized by: Keio University Art Center
---
河口龍夫 かわぐち たつお
1940年兵庫県生まれ。筑波大学名誉教授。
1965年「グループ〈位〉」を結成・活動の頃から注目を集め「第10回日本国際美術展 (東京ビエンナーレ 人間と物質)」(1970年、東京都美術館他)などに出品。1989年には「大地の魔術師たち」(パリ、ポンピドゥセンター)に参加。
1960年代から現在に至るまでたゆみない制作活動を展開している。その傍ら、筑波大学を始め、数々の大学で教鞭をとり、常に教育活動にも携わってきた。1960年代の作品発表の初期から「関係」をテーマとし、その探求は現在にまで続く。河口の制作は「見えるもの」「見えないもの」を問い、鉄・銅・鉛などの金属、化石や貝、植物の種子など様々なモノを用いながら、モノの本質に向き合い、「関係」についての思考を続けている。
慶應義塾大学アート・センターでは、2015年3月に河口を招聘してトーク・セッションを実施したが、その際のポスターを契機として《「陸と海」からの時相》シリーズが誕生した。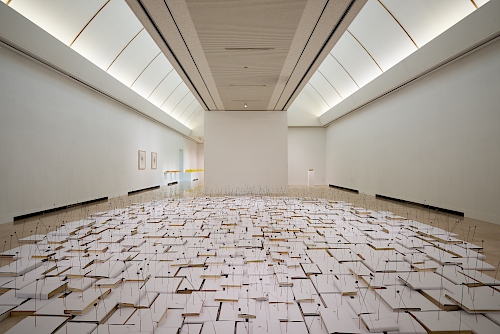 撮影:池田ひらく 「河口龍夫-ちのこうや-」黒部市美術館展示風景



ショーケース プロジェクト(SHOW-CASE project)とは
慶應義塾大学アート・センターは同大学アート・スペースにおける展示を中心に展示活動を展開していますが、この度新たに小規模かつ多岐にわたる場所で展開可能なオプショナルな展示プロジェクトとして「SHOW-CASE project」を提案します。

このプロジェクトは基本的には文字通りの展示ケース(Showcase)によって、事例を紹介する /ケースを示す(Show Case)ということを意図しています。また、展示ケースという小さな展示空間を作家と演出すると同時に作家と協力して印刷物を発行することがこのプロジェクトの大きな特徴です。ディスカッション・ベースで企画者と作家が共同しつつ、展示ケースと印刷物を一体として作品として創出させるという試みです。