Symposium| Tangite me : Reconsidering Conservation during the Pandemic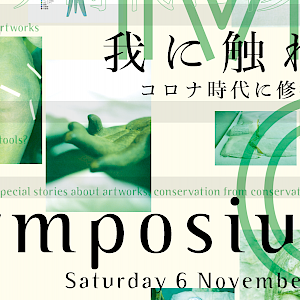 *This event has ended, but we are still streaming the recording on YouTube. Please click here to view the video.
To "touch" artworks is both a way of learning more about them and an act of the possibility of direct destruction. The practice of conservation, which can begin with "touch", has always faced such a dilemma. Starting from practices shared by specialists who have undertaken conservation of artworks in Keio, we will reconsider conservation from the perspective of "touch". We hope that this symposium will provide an opportunity to discuss and rethink the present and future of the conservation and the use of artworks during the Pandemic.
Date
Saturday 6 November 2021, 13:00-17:00
Venue
Online
Audience
Everyone welcome
Cost
Free
Enquiries and bookings
Keio University Art Center](http://www.art-c.keio.ac.jp/en/)
Tel 03-5427-1621 Fax 03-5427-1620
Keio Museum Commons](https://kemco.keio.ac.jp/en/)
Tel. 03-5427-2021 Fax. 03-5427-2022
pj.oiek@puorg-ocmeauk
Date
Saturday 6 November 2021, 13:00-17:00
Venue
Online
Audience
Everyone welcome
Cost
Free
Lecturer/Performer
Asa Ito(Tokyo Institute of Technology)
Hirotake Kurokawa (Musashino Art University / Bronze Studio)
Yuji Takahashi (Bronze Studio)
Yasuaki Miyazaki (Art Restoration Studio 21)
Yohko Watanabe (Keio University Art Center / Keio Museum Commons)
Timetable
13:00 Opening remark
Yukihiro Ikeda (Vice-President of Keio University)
13:10~ Part 1 Considering "Touch" in the Art
Yohko Watanabe (Keio University Art Center / Keio Museum Commons)
Discovering, Caring for, and Disseminating Artworks
Asa Ito (Tokyo Institute of Technology)
Caring Hands
14:00~ Part 2 Practices in the Conservation of Artworks
Hirotake Kurokawa (Musashino Art University / Bronze Studio)
Yuji Takahashi (Bronze Studio)
Yasuaki Miyazaki (Art Restoration Studio 21)

15:20~ Part 3 Discussion
Asa Ito, Hirotake Kurokawa, Yuji Takahashi, and Yasuaki Miyazaki
Moderator: Yohko Watanabe
17:00 Closing remark
Enquiries and bookings
Keio University Art Center](http://www.art-c.keio.ac.jp/en/)
Tel 03-5427-1621 Fax 03-5427-1620
Keio Museum Commons](https://kemco.keio.ac.jp/en/)
Tel. 03-5427-2021 Fax. 03-5427-2022
pj.oiek@puorg-ocmeauk
Organiser(s)