Yoko Terauchi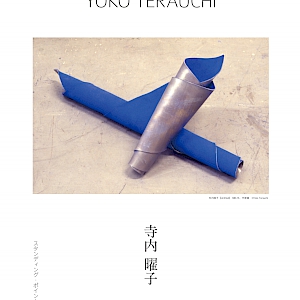 Over five years, beginning in 2011, Keio University Art Centre hosted the series "Contemporary Eyes," committed to exhibiting works by contemporary artists. Through this series, we hoped to foster within a university environment the opportunity for younger generations to encounter the works of living artists.
From 2017, we are beginning the new series, "Standing Point." The first artist to be exhibited in this new series is Yoko Terauchi.
Yoko Terauchi's work emerged through the doubts and incongruities she experienced whilst studying sculpture at Saint Martin's School of Art in London in the late 1970s. Her work began with the interrogation of self-evident logical structures (surface vs. interior, for example), and continues to investigate these questions. In this way, it can be read as a challenge to Western dualism.
Date
15 May - 30 June 2017
Venue
Keio University Art Space
Audience
Open to Anyone
Cost
Admission Free
Enquiries and bookings
Keio University Art Center
​03-5427-1621
pj.ca.oiek.tsda@ijnet-ca
Date
15 May - 30 June 2017, Monday to Friday, 11:00-18:00 (Closed on Saturday, Sunday and Holiday)
Venue
Keio University Art Space
[Located on the ground floor of Keio University South Annex]
2-15-45, Mita, Minato-ku, Tokyo, 108-8345
Tel. 03-5427-1621 Fax. 03-5427-1620
JR: Tamachi station on Yamanote - and KeihinTohoku Line
Subway: Mita station on Mita Line, Akabanebashi station on Oedo Line
Audience
Open to Anyone
Cost
Admission Free
Enquiries and bookings
Keio University Art Center
​03-5427-1621
pj.ca.oiek.tsda@ijnet-ca
Organiser(s)
Keio University Art Center
---
会場での撮影について
展覧会開始当初は、通常の現代美術展と同様、会場内での撮影はご遠慮いただいておりましたが、作家との協議の結果、撮影可能となりました。
撮影した画像をインターネットで共有する場合、2種のハッシュタグ【#寺内曜子】【#keioart】をつけて、拡散にご協力ください。
※ フラッシュ/三脚などの固定台はご使用になれません。
※ 撮影した写真は個人使用に限ります。取材などの際は別途ご相談ください。